William A. Clarey, II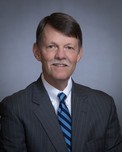 Getting in Touch
2450 Louisiana Street, Suite 400,
# 934 Houston, Texas 77006 ​United States
Phone: 713 238 6705
bclarey@cnintl.com
http://www.cnintl.com/
Send personal email
Bill received his Bachelor's Degree in Business Administration from St. Mary's University and his MBA at the University of Southern California. Prior to joining the Executive Search industry, he spent seven years as a consultant with McKinsey & Company and Hay Associates. In that capacity, he helped large energy, manufacturing and diversified service companies among others address major corporate strategy, organization, human resources and executive compensation issues.

In 1987, Bill joined the Executive Search profession and over the next ten years served as a Principal and Partner with two major international firms. During this period, he served clients in a variety of industries to include: energy, professional services, environmental, information services, private equity, and manufacturing. He has conducted executive search assignments in various functional disciplines to include: general management, risk management, business development, finance, operations, engineering, manufacturing, management consulting, systems, quality, and human resources.

In 1998, Bill joined with his current partner to form Clarey/Napier International with the objective of delivering high level, client focused executive search services targeted at the global energy market place.